What's new in SURE 1.3
We are proud to announce the release of SURE version 1.3!
We added a number of new features leading to improved data quality as well as plenty of supportive functions for your every day work with the software.
New workflow customization options are now available in both the graphical and the command line interface.
Features
New Cloud Filter
New 3D point cloud filter producing clouds with higher precision and normal information
Interactive Ortho Viewer
New interactive Ortho Viewer
> Display DSM and True Ortho tiles during processing
> Scalable viewing of large projects using image pyramids
> Open pointcloud resources and set the project area interactively
3D Mesh with vertex colors
Vertex colors in 3D mesh available before texturing process
---
Workflow
Modular 2.5D and 3D Workflow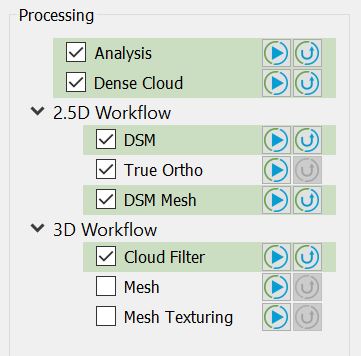 Separate processing steps for workflow & separate command line executables
2.5D Tool
Flexible usage of True Ortho and DSM Mesh module with edited or third party point clouds
---
Bugfixes
DSM Mesh without holes at tile borders

True Ortho writing delay fixed for very large projects

Support of mixed 3 and 4 channel images in True Ortho and DSM Mesh

Result resources remain project after closing