What's new in SURE 5.0
SURE 5.0 comes with a novel Mesh Texturing approach and will drape your products in a whole new appearance. This next level of texture consistency will keep your results clean also in challenging situations. Furthermore, it will generally bring their look closer to reality — while retaining high geometric quality.
With this release, you can again expect significant speed-ups in your production. Conclude your large-scale mapping projects up to 15% faster.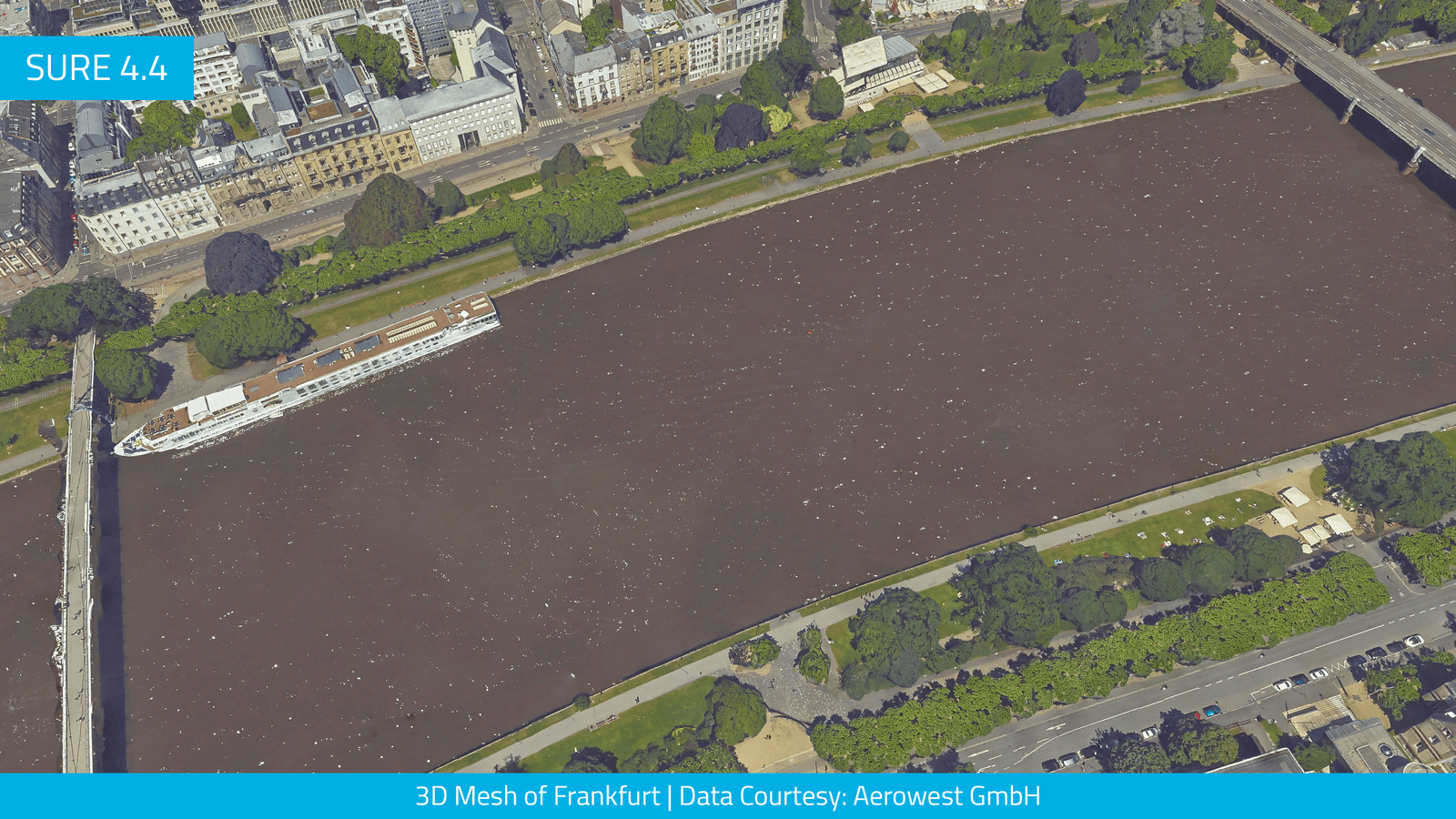 Consistent Mesh
Textur

e

Challenging situations like specular surfaces, changing light conditions, and moving objects have a huge impact on the quality of your products. SURE's geometrically accurate results are now enhanced with increased texture quality for meshes.

Benefit from
effective omission of moving objects and increased color consistency across all Levels of Detail (LoD).

reduced occurrences of reflections from windows, water surfaces, and glass facades.
True Ortho & Mesh
Performance
Reduce your time to delivery for country and city-wide True Ortho and Mesh products. SURE 5.0 improves performance consistently across all workflows and for all products.
True Orthos and DSM Meshes: 15% speed-up

3D Meshes: 10% speed-up

Benefit from improved cluster efficiency in distributed processing due to shorter time spent on the master node.
Increased Performance for Drones and Unstructured Flights
Benefit from a significant boost in performance when processing in a redesigned scenario Default for unstructured flight patterns or drone applications.
Quality setting "High" is aimed for fast turnaround applications, delivering competitive results both in terms of performance and accuracy.
Produce True Orthos up to 50% faster - at no loss in quality

Produce 3D Meshes up to 3x faster
On the other hand, the quality setting "Ultra" achieves the maximum geometric / texture accuracy, in particular for the 3D Mesh product.
Produce excellent 3D Meshes in up to 30% less time with no loss in quality.
True Ortho | Beta
With SURE 5.0 we offer an optional Beta version of our new True Ortho. This feature is targeted at excluding unwanted effects like moving objects, total reflections, or color inconsistencies.
Please contact us at support@nframes.com if you want to participate as a Beta tester. We are looking forward to hearing from you!
Workflow Improvements
SURE will leverage your machine's GPU with supported CUDA compute capability by default now. For more information on GPU requirements see our Hardware Recommendations.

With SURE 5.0 we have updated our recommended workflow for the import of orientations from Agisoft Metashape.
We are happy to hear your thoughts — get in touch! https://www.nframes.com/contact-us/